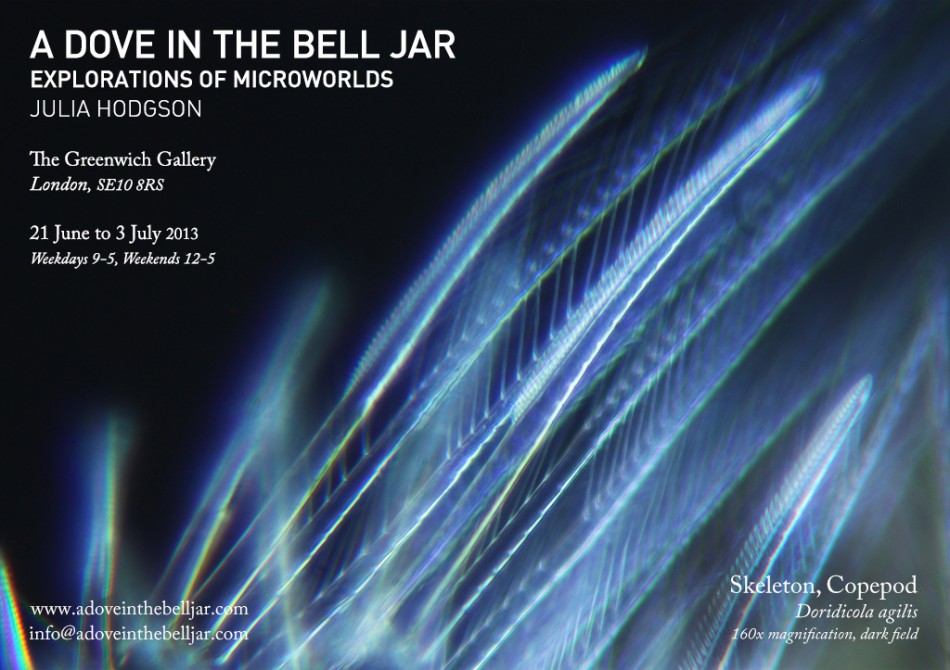 A Dove in the Bell Jar
Explorations of Microworlds
Julia Hodgson (b. 1982) is an artist based in South London. Her practice seeks to unearth and explore hidden worlds; formerly seeking out and documenting abandoned industrial sites, she now turns to the microscopic landscapes of the natural world.
A Dove In The Bell Jar is the first solo retrospective of Hodgson's ongoing photomicrography practice, as documented in the artist's research blog (adoveinthebelljar.com). The exhibition presents a series of digital C-type prints of magnified specimens, spanning a number of fields. Prints are segmented into groups including aquatic, insectoid, mineral, and cellular, with abstract formal narratives emerging from their groupings.
The resultant images are the outcome of a process of microscopic exploration, selected purely for their formal and textural properties. This is in contrast to the typical approach of scientific microscopy, which is driven by functional objectives. Hodgson's approach is closer to that of a painter, composing each frame based on aesthetic judgments.
Specimens are sourced with no fixed methodology, but are often found or gifted to the artist.
During the exhibition, the artist invites visitors to bring their own specimens for viewing at the gallery, projecting live video from a laboratory-grade microscope onto a plasma display (Sat & Sun only).
The Greenwich Gallery
London, SE10 8RS
Private View 20 June 6.30pm – 8.30pm
21 June – 3 July 2013
Weekdays 9-5, Weekends 12-5
Free Admission